Here are the rules:

1. Grab your current read
2. Open to a page
3. Pick out 2 lines that are SPOILER FREE
4. Name the title, author, etc.
I can already sense the heartbreak/agony I will be suffering once I finish this book! The last one won't be out until the END of October NEXT year!!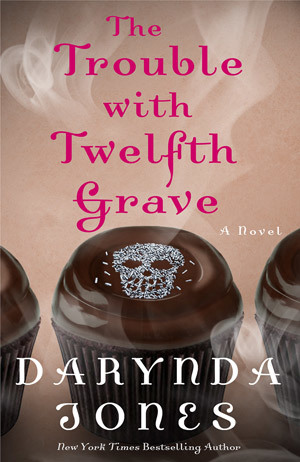 "He sank into the chair across from me again and just kind of stared.





I did a quick analysis of my nails. Nibbled on a couple. Conducted a visual assessment of Garrett's kitchen. Contemplated raiding his cabinets for Oreos. Took another sip of coffee. Wondered if Marvel and DC could ever live in harmony. Shifted in my chair to adjust my underwire. Tapped out White Stripes' 'Seven Nation Army' on the table with my fingertips. Checked my phone for messages."

p 27
TITLE: The Trouble with Twelfth Grave
AUTHOR:

Darynda Jones
PUBLISHER:
St. Martin's Press
GENRE:
Paranormal Mystery
RELEASE DATE:
October 31, 2017
Top Ten Tuesday is an original feature/weekly meme created at The Broke and the Bookish. This feature was created because we are particularly fond of lists here at The Broke and the Bookish. We'd love to share our lists with other bookish folks and would LOVE to see your top ten lists!

Each week we will post a new Top Ten list that one of our bloggers here at The Broke and the Bookish will answer. Everyone is welcome to join. All we ask is that you link back to The Broke and the Bookish on your own Top Ten Tuesday post AND add your name to the Linky widget so that everyone can check out other bloggers lists! If you don't have a blog, just post your answers as a comment. Have fun with it! It's a fun way to get to know your fellow bloggers.
This week's topic is:
Top Ten Books I'm Looking Forward to In 2018
**a mix of new releases and TBR books that I hope to get to in 2018!
10.

BATMAN: NIGHTWALKER

by Marie Lu

--

I plan to read this one very, very soon! Like after my next read soon!
9.

TO KILL A KINGDOM

by Alexandra Christo

--

just traded to get this one and it's my next next next read!!
8.

THE CRUEL PRINCE

by Holly Black

--

sooo excited for Holly to be returning to the fae! Why I'd LOVE to get this one read in time for the signing I'll be attending, I'm not positive I will manage it.
7.

MOONLIGHT SINS

by Jennifer L. Armentrout

--

found out last week that I won an ARC! So I am super stoked to be reading this one hopefully in early January!
6.

THE RETURN

by Jennifer L. Armentrout

--

I REALLY hope to finally start this series! Let's see how far I can get in 2018!
5.

THE DEAD LIST

by Jennifer L. Armentrout

--

while I'm at it, let's just make this a whole JLA row! I always meant to read this one on Wattpad but never got around to it! Honestly, I am happier reading it like this!
4.

THE MIDNIGHT DANCE

by Nikki Katz

--

bought this one all whimsy like when I had a killer coupon from B&N! Plus it's a

Twelve Dancing Princess

type tale which was one of my favorites from back in the day!
3.

OTHERWORLD NIGHTS

by Kelley Armstrong

--

so behind in reading these!! And I love the Otherworld and haven't read nearly enough of the short stories!
2.

EXILED

by Amanda Carlson

--

somehow I didn't make it on the Street Team listing--and I was previously for the first two books--when this one came out so I have yet to read it as of yet! Hopefully I will be able to get to it in 2018!
1.

IMMORTAL REIGN

by Morgan Rhodes

--

I CANNOT WAIT!!!! I'd say let's just skip January, but I already have 2 signings planned for January so I don't necessarily want to skip over those! LOL!