This next prompt which I am borrowing from my little list, is a doozie! One that both readers always have a love/hate relationship with. What we all desire and fear the most! You know what I am talking about...
A Favorite Book/Series that I Would Love to See Adapted to Film
There is nothing worse than seeing a beloved book being turned into a movie and having that movie suck major ass. One of my most beloved books, which I have already discussed, was turned into a movie and it SUCKED! As I mentioned the ONLY 2 things that were the same were the character NAMES and the fact that werewolf girl falls in love with human boy. And of course I am talking about Blood & Chocolate.
As to a book or series that I would love to see be made into film...and be made RIGHT! ie: DON'T DO what the Blood & Chocolate crew did...would be The Mediator series for sure! I LOOOOOVED Meg Cabot's Mediator series! I think that this would make a good movie or TV show. It might work better as a show since there are so many books and yet not enough books. It definitely has a Veronica Mars feel to it, even though the first book (in its first print run! I know a lot of people have the one where the covers all match, that one was printed in 05, so after/during Veronica) predated good ol' Veronica. There's mystery, sarcasm, sass, GHOSTS and of course, bits of romance thrown about here and there!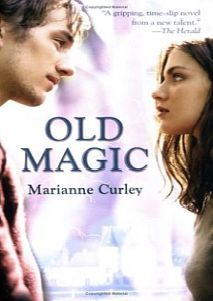 Another book I'd LOVE to see made into an epically amazing movie would be Marianne Curley's Old Magic! My first magical read involving time travel! This would make an oohhh so delightful movie! But again, it has to be done right and true to the novel. None of this branching out and making beloved characters annoying...sadly, I am thinking of Vampire Academy with that one! Not sure what happened in filming there (and of course this is just my own opinion! I totally love movies that people have LOATHED! So if you truly loved the Vampire Academy movie, kudos!).
Those two are definitely ones that come to mind! I was just daydreaming about Old Magic the other day too! Lol!