Here are the rules:

1. Grab your current read
2. Open to a page
3. Pick out 2 lines that are SPOILER FREE
4. Name the title, author, etc.
"And with that one kiss, she was smitten. Ruined, really. Because for the rest of her life, he would be the ruler all other men were measured by. And if she lived to be a thousand years old, she was always going to wonder what if?" Kindle loc. 32%
TITLE: The Dragon Finds Forever
AUTHOR:

Kristen Painter
PUBLISHER:
Sugar Skull
Books
GENRE:
Paranormal Romance
RELEASE DATE:
February 21, 2017
Top Ten Tuesday was created by The Broke and the Bookish in June of 2010 and was moved to That Artsy Reader Girl in January of 2018. It was born of a love of lists, a love of books, and a desire to bring bookish friends together.
This week's topic is: FREEBIE: Most Scream-worthy Cliffhangers!
**wherein you will need the next book in the series asap and for most of these I HAD TO WAIT!!!!
10.

REIGN OF SHADOWS

by Sophie Jordan

--

this was one of the few where I was lucky to have the next book at the ready! Bc OMG that was dreadful!
9.

DREAMFEVER

by Karen Marie Moning

--

oh the screams! The terrible screams! Mine and Mac's!!
8.

SOLDIER

by Julie Kagawa

--

another rare, rare instance where I had the next book at the ready...thankfully!! Julie holds nothing back with gut wrenching cliffhangers!
7.

THE TROUBLE WITH TWELFTH GRAVE

by Darynda Jones--

omg omg omg omg!!! I NEED 13th GRAVE NOW!!! But aahhh!!! Did you see it was pushed BACK to 2019?! Amazon and Goodreads have conflicting dates, a January and February one so I am left in a state of horror at not knowing how long I will have to wait!
6.

SHADOW KISS

by Richelle Mead

--

one of the worst cliffhangers EVER!! Dreadful! What's worse...the graphic novel series ENDS WITH THIS!!!
5.

TWISTED

by Gena Showalter

--

you're probably tired of hearing about this one from me by now! Lol! I apparently hold "grudges" with cancelled series that are likely to never ever ever have a conclusion! Even Gena's description of how book 4 would've gone down still left out CRITICAL information!
4.

OPAL

by Jennifer L. Armentrout

--

OMG!!!! I had binge read these first three together and this ending killed me!
3.

WICKED: SPELLBOUND

by Nancy Holder & Debbie Viguie

--

aka Wicked (compilation Volume 2). I first read this series when the books were individual and this ending killed me! And I went on to learn that the series was cancelled!!! I had to wait 6 years for the finale to come about as the series was eventually revived due to better sales!
2.

DEAD OF WINTER

by Kresley Cole

--

OMG THIS ENDING!!! And then to have the series in a state of hiatus for awhile as there was a change in publishers...this yet again, killed me!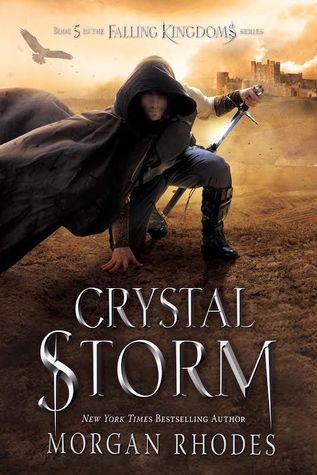 1.

CRYSTAL STORM

by Morgan Rhodes

--

although, to be fair, books 1-4 had pretty screamworthy cliffhangers too. But I think this one, this one was the most scream worthy!! I've only just gotten my voice back earlier this year when I got the final book in my hands! Lol!! But even then, it still took several chapters and pages until my heart would beat at a normal rate...even by looking at the cover! ;)